Mission
Our mission at Ruff 'n Tumble Playcare is straightforward and very simple. The health and well-being of all dogs in our care is our first and only priority! In our last dog-friendly business, we noticed that often people have their dogs "taken out for a mid-day bathroom break" while they are gone for the day or at work. While that helps to keep your house clean it doesn't do much for your pooch in terms of exercise, stimulation, interaction or companionship. At Ruff 'n Tumble your dog will have plenty of opportunities to engage in all kinds of activities under the care of our well-trained, dedicated staff of professionals. We promise to keep our dog-to-staff ratio low to ensure that the ultimate individual care and attention is provided to each and every dog. Our staff is here to ensure your dog's safety and to provide an environment that is fun and enriching. Ruff 'n Tumble's staff will provide personalized care and exceptional service to our guests on four legs, as well as their two-legged parents
Sheri and Michael Helman ~ Owners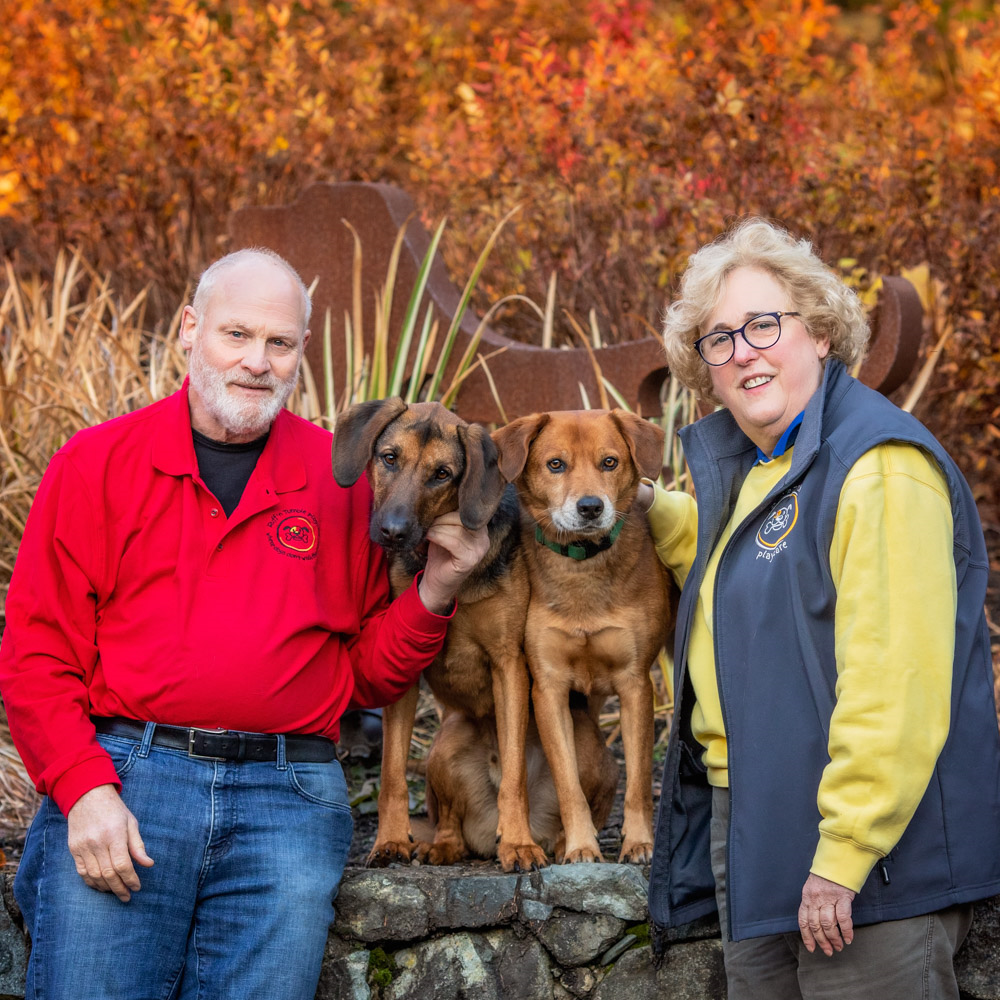 We are local residents and have been active members of the Merrimack Valley business community for over 20 years. Prior to starting Ruff 'n Tumble Playcare, we were the owners of a local wine store. Our dog, Jake, came to work everyday and greeted all of our customers. Jake came to us from the MSPCA at Nevins Farm and was our first rescue dog. He took great care of us for 15 1/2 years. After Jake's passing, we got Hannah who gladly stepped into the role that Jake had created. Observing Jake, and then Hannah grow up in the store's stimulating environment, we quickly realized the wellness benefits of dogs who have regular social interaction. It was clear that dogs who are physically active and mentally engaged show many health benefits attributed to living this type of lifestyle. As a kid growing up, Sheri always wanted to work with dogs, but corporate life took her in another direction.
It was Jake's adoption that planted the seed for a relationship between Michael and Sheri and the MSPCA at Nevins Farm. Our passion for dogs led us to create annual fundraising events resulting in over $150,000 for the shelter. Then in 2016, after selling the wine shop, the next obvious step was to work with dogs and help them live a better lifestyle.  We decided to open a dog daycare because our animals have meant so much to us and we wanted to help others. In 2017, that decision led to the creation and opening of the only licensed daycare and kennel in North Andover, Ruff 'n Tumble Playcare.
Our desire is to fill Ruff 'n Tumble with other peoples' dogs and make sure they get the love and care that all dogs deserve. Although Jake is no longer with us, he is the reason we are now doing something we love. His paws have been filled by Hannah and Fred, both rescue dogs that we now share our life with. Most importantly they keep that passion alive to help all dogs live as good a life as they do.
General Manager ~ Cherie Ann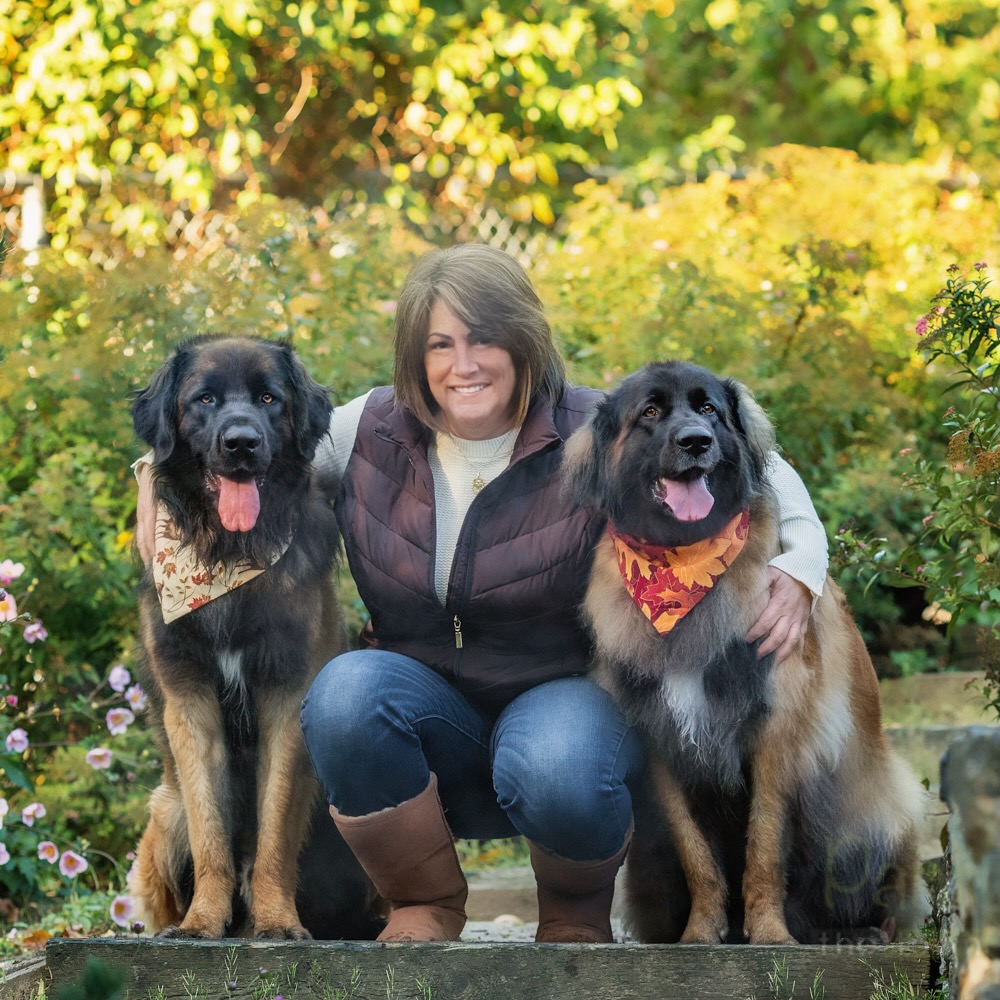 Cherie has been with us from the beginning, we hired her even before we opened our doors. If you ask her she'll tell you it's always been about the animals for her, she has always had them in her life and at her side.
Currently "Groot" claims her as his mother along with his actual mother Xarhia and another big brother Zeus. Prior to joining us, Cherie has been an active member of various local kennel clubs and had worked in the doggie daycare industry for years.
After many years with a career in the "human" healthcare field she decided to follow her dreams of working with dogs full time.
Cherie went back to school to become a Licensed Massage Therapist certified in Canine Massage along with being a Reiki, level II practitioner where her healing skills have helped countless canines in need. Cherie is a huge asset to Ruff 'n Tumble, both for her extensive working knowledge of dogs, their behavior & anatomy and her excellent organizational skills.
Assistant Daycare Manager & Sr. Dog Handler ~ Gina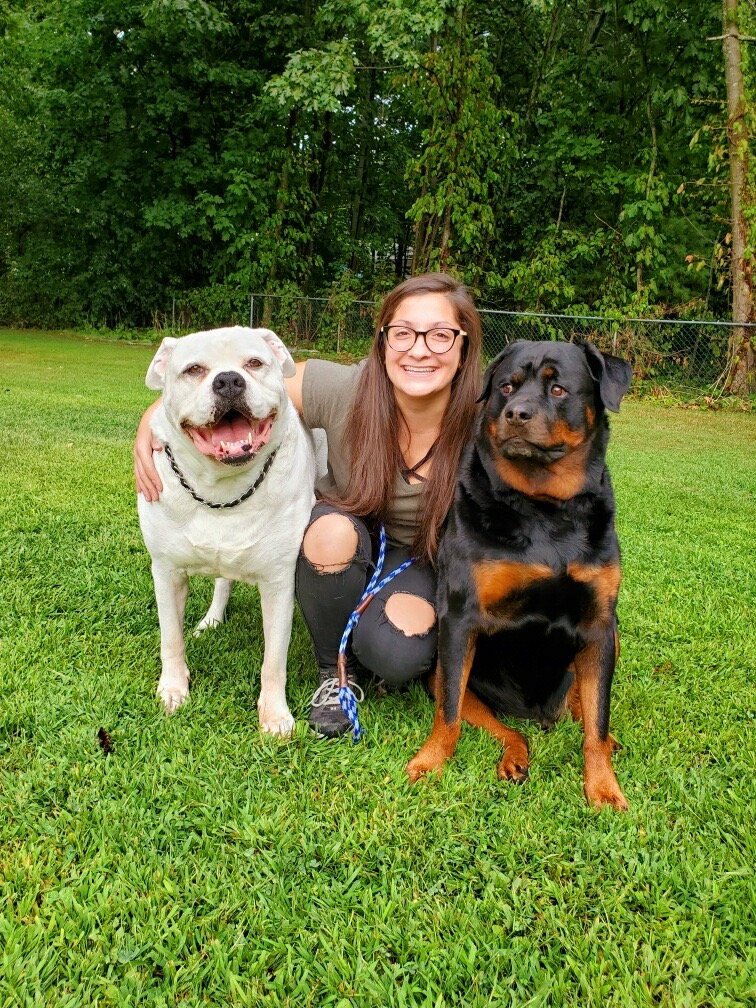 Gina joined us late summer 2020 in the midst of the pandemic, but despite her short tenure she has proven herself to be invaluable. When she first applied for a job we saw that she had experience working at a grooming salon and a daycare. She also told us she owned a "few" animals and we thought that experience would enable her  to handle many situations. Litlle did we know that this included two 155 pound dogs named Rocco (an american bulldog) and Charlie (a rottwieller), two cats and a bird.
Right from the start we thought she was someone that could jump in and work well in the team.  It wasn't until after she started that we realized how quick that start would be.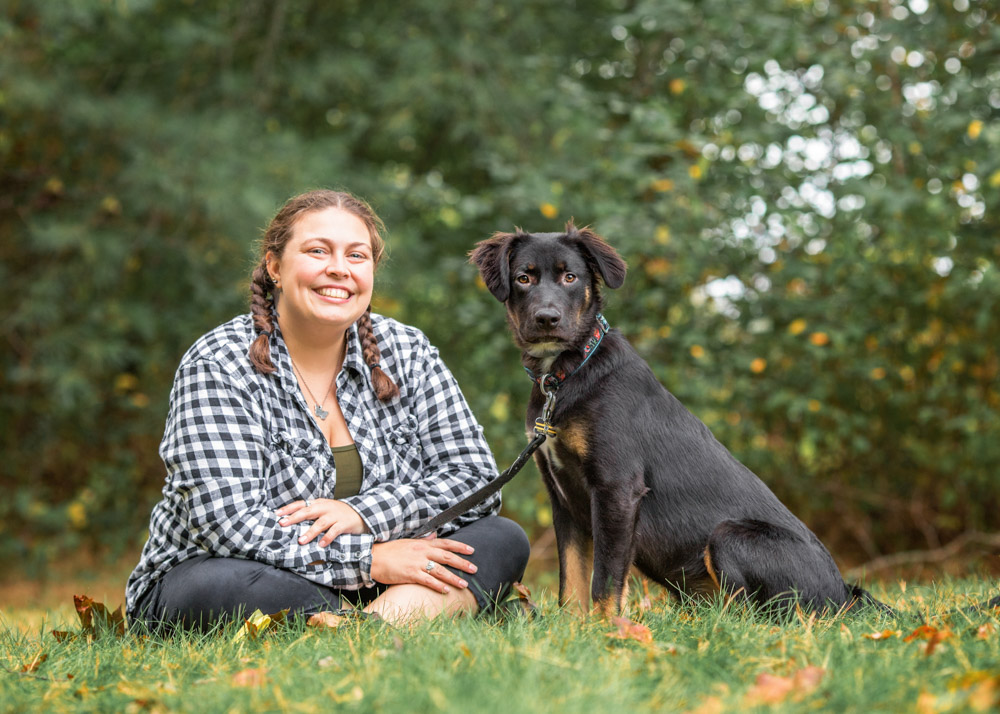 Shyra has been with us since we opened our doors in Jan '17 but has been working with animals since she was 16 years of age. After having explored (and studied) many different area's in the animal field she finally know that caring for dogs is something she enjoys.
Her experience includes everything from being a kennel technician at an animal hospital to working at a holistic pet store.  Learning about canine behavior is fascinating to her. As one of the overnight staff she ensures a safe environment for dogs that need to spend the night away from home.
1755 Osgood St.
N. Andover, MA 01845
Phone: 978-984-5599
Email: info@ruffntumbleplaycare.com